Research Interests
My dissertation research involves addressing the impacts of predicted climate changes on phytoplankton assemblage composition and particulate material export in the ocean using both satellite remote sensing and numerical ecosystem modeling approaches. I am particularly interested in understanding the role that small-scale physical dynamics play on large-scale climate-ecosystem interactions and global carbon cycles. I am a fan of oceanographic technologies, and a pilot of both "Webb gliders" and "seagliders" which are autonomous underwater vehicles (AUVs) equipped with hydrological and optical sensors. These gliders provide continuous measurements of key attributes in the ocean at high temporal and spatial resolutions.
Animation linked from USCLAB website: http://usclab.usc.edu/usclab/.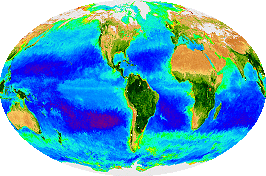 Global primary production estimated from satellite data. Animation linked from: http://oceancolor.gsfc.nasa.gov/.
Xiao Liu
University of Southern California
3616 Trousdale Parkway, AHF B30
Los Angeles, CA 90089