Research Interests
Phytoplankton blooms are phenomenon throughout the coastal waters of the world and some times even the open oceans with ever increasing frequency. I am interested and have been involved in studying the dynamics of phytoplankton blooms in a variety of environments that include coastal California, the Ross Sea in Antarctica, and the marginal South China Sea. One method for real-time assessment of the temporal and spatial distribution of those blooms and the variability in phytoplankton assemblage structure in natural waters involves optical techniques which have recently been integrated into a variety of oceanographic observing systems. I am particularly interested in understanding physical and physiochemical controls of phytoplankton assemblage and size structures using in situ bio-optical instruments as well as autonomous underwater vehicles (AUVs) equipped with optical sensors. For my doctoral research, I will be exploring the harmful algal blooms off the south central coast of Viet Nam and Mekong River Delta which are presumbly driven seasonally by Southeast Asian monsoons. I am also interested in understanding the organic carbon export as a function of particle size structure via coupled physical and ecosystem models.
Animation linked from USCLAB website: http://usclab.usc.edu/usclab/.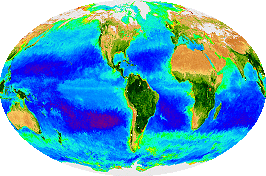 Global primary production estimated from satellite data. Animation linked from: http://oceancolor.gsfc.nasa.gov/.
Xiao Liu
University of Southern California
3616 Trousdale Parkway, AHF B30
Los Angeles, CA 90089